There ain't no rest for the wicked, as they say and, whether you think the Predators are wicked or not is by personal opinion, Nashville hasn't had much breathing room. After defeating the New York Rangers 3-2 yesterday afternoon, the Predators were back at it again this afternoon against the Florida Panthers in Sunrise.
SCRATCHES: Colin Wilson
FIRST PERIOD:
Very much like yesterday, the first period today was slightly uneventful with no goals for either team. Both teams were given powerplay chances, but neither goaltender was willing to let one by.
SECOND PERIOD:
The second period belonged to the Panthers, as both Tomas Fleischmann (6) and rookie Aaron Ekblad (8) would sink goals on Carter Hutton. The period would end in favor of the Panthers 2-0.
Mattias Ekholm suffered an upper-body injury late in the second period after slamming into the boards. Though he was able to leave on his own, Ekholm did not return to the game after his injury.

THIRD PERIOD:
The Predators finally hit the right notes at 4:44 into the third period with a powerplay slapshot from Seth Jones. Mike Ribeiro (34) setup the assist for Jones' fifth goal of the season.
Filip Forsberg would tie the game at 15:17 on another powerplay opportunity, collecting his 18th goal of the season. No assistance was needed for Forsberg's snapshot past Roberto Luongo.
OVERTIME:
SHOOTOUT:
FLA – Brandon Pirri – MISS
NSH – Matt Cullen – GOAL
FLA – Brad Boyes – GOAL
NSH – Craig Smith – GOAL
FLA – Nick Bjugstad – GOAL
NSH – Roman Josi – MISS
FLA – Dave Bolland – MISS
NSH – Filip Forsberg – GOAL
NOTEWORTHY:
With his game-tying and game-winning goal, Filip Forsberg is all smiles – as usual. With eighteen goals, Forsberg is tied with Alexander Radulov's rookie goal record.
Mike Fisher cup-checked Erik Gudbranson at the end of regulation and got away scot-free. Anyone who knows Fisher knows it was unintentional, but it's still a wee bit funny:

Colin Wilson, who is day-to-day, did not make the trip with the team to Florida – unsurprisingly.
Carter Hutton is now 5-4-4 on the season and me thinks may have found his niche.
It is certainly safe to say that Nashville came into Sunrise, Florida and stole two points from the Panthers. With the collection of two points, Nashville is now 35-12-6 and, thanks to the Lightning defeating the Ducks 5-1, the Predators are now back atop the League with 76 points. Kudos to the Blackhawks as well for taking a chunk out of the St. Louis Blues 4-2 (the Blues are down by four at 72 points).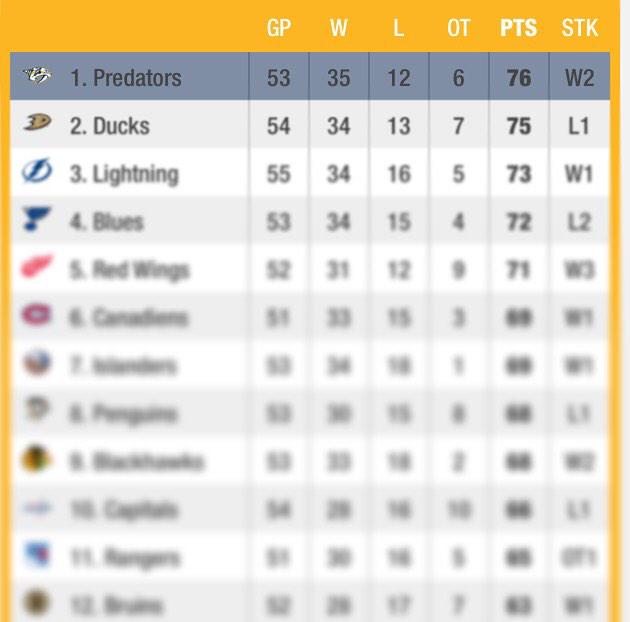 The Predators are back Tuesday night as they welcome the best in the Eastern Conference, the Tampa Bay Lightning.